Roasted bell peppers with garlic & herbs
roasted bell peppers embrace the sweetness of this nutrient dense vegetable & have a much different flavor than sautéed bell peppers or raw bell peppers. the perfect addition to sandwiches, salads or side dish to your favorite healthy dinner or lunch! ondering how to roast bell peppers? read on!
GOOOD morning & happpy friday! this week has flown by for me & hopefully it has for you, too! i wanted to present you with a simple healthy recipe to try over the weekend…. garlic roasted bell peppers! SO good and cost saving 🙂
so now that michael and i are married (woop woop!) we did what all good newlyweds do — got a Costco membership. HA.
you'd think for two people you wouldn't need MASS quantities of ingredients, but then you go through 5 jars of peanut butter in two weeks and you're like oh? Same with oatmeal, deli meat, pasta sauce, eggs,  guac… you get the deal.
one other thing we (well, me) go through pretty quickly is roasted bell peppers!!! i feel like they don't get enough attention from people yet theyre a pretty healthy and cheap food.
we ended up with this HUUUGEEE bag of bell peppers from Costco that, at the time, i though were SO essential. wrong. the bell peppers were in the fridge about to go bad and i was like uhhhh how are we gonna handle this.
we're kinda ballin' on a budget so throwing food away is very frowned upon in the moye house.
i ended up deciding to just roast the bell peppers in the oven AND IT WAS AMAZING. you'd be surprised how many people don't know how to roast bell peppers when it's literally the easiest thing but tastes 1000000x better than store bought.
instead of taking the traditional route of tossing them in olive oil, i just sprayed the peppers with pure, organic coconut oil and it worked like a charm. why? well, coconut oil is super duper good for you ( find coconut oil health benefits here) and i love how spraying my roasted vegetables gets them evenly coated. none get left behind! after spraying them i cooked the bell peppers in the oven for a couple mins until they got, er, sweaty? …sorry, i don't know a better word 🙁 . by doing that it makes the spices stick better in my opinion.
once the roasted peppers cooled a little, michael and i tried them and our minds were blownnnnn. they were so sweet and just naturally tasty! the peppers were such little work it seemed too good to be true. michael was literally in amazement and it was kind of hilarious haha.
sometimes you gotta step away from all those fancy shmancy recipes and get back to the basics, like… how to roast bell peppers 😉 recipe & instructions belowwwww.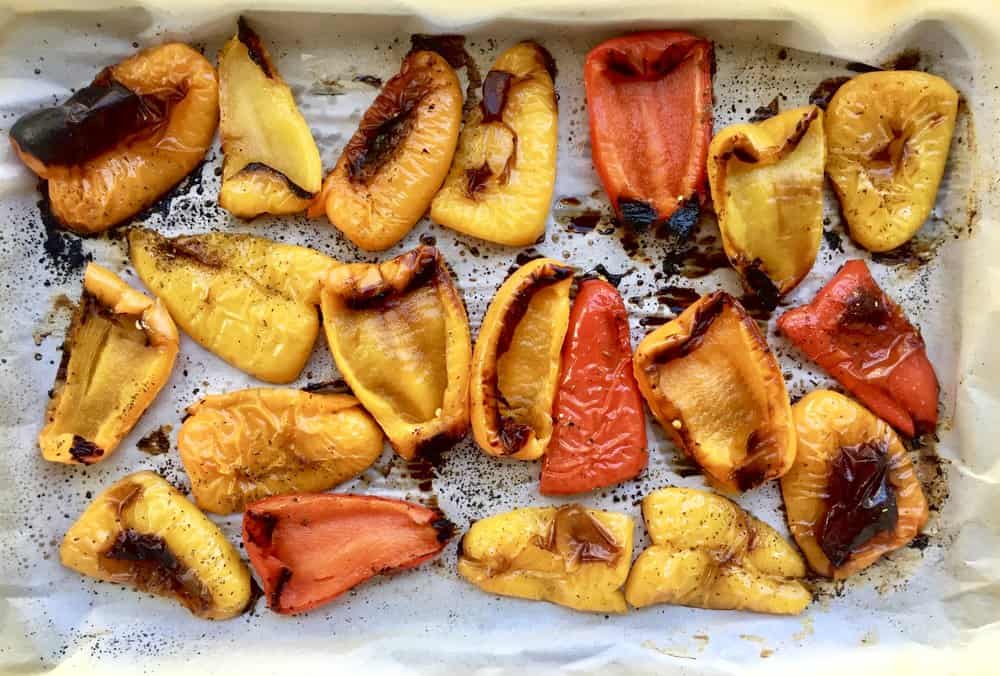 ingredients:
5 bell peppers — or however many you want to make!
coconut oil spray
garlic salt
cracked pepper
mrs. dash (sodium free)
instructions:
preheat the oven to 450F
cut off the stem with a paring knife and get the membranes & seeds out.
cut each bell pepper into four sections.
place the peppers cut side down on some parchment paper on a cookie/baking sheet and spray with coconut oil.
sprinkle mrs. dash, cracked pepper & garlic salt on the peppers as desired.
roast the bell peppers in the 450F oven for around 20 minutes, then flip them and bake for another 5-10 mins.
the peppers are done once the skins are charred and wrinkly.
let the peppers cool for a few minutes.
remove them from the baking sheet and place in a covered bowl to let them steam a little bit (about 30 mins).
i chose to leave the skins on because i'm weird like that, but most people peel off the skins.
place them in a tupperware to store them, or just eat them all right then!!