20 Minute Risotto with Asparagus, Peas, Spinach and Shrimp | Healthy Spring Recipe
This 20 minute risotto recipe is perfect for the lazy chef who wants to look like a pro! Made in a pressure cooker and packed with vegetables. Enjoy this easy vegetarian risotto recipe with lemon pepper shrimp or your favorite protein on top! This post was sponsored by Crock-Pot Express Crock, but all opinions are my own.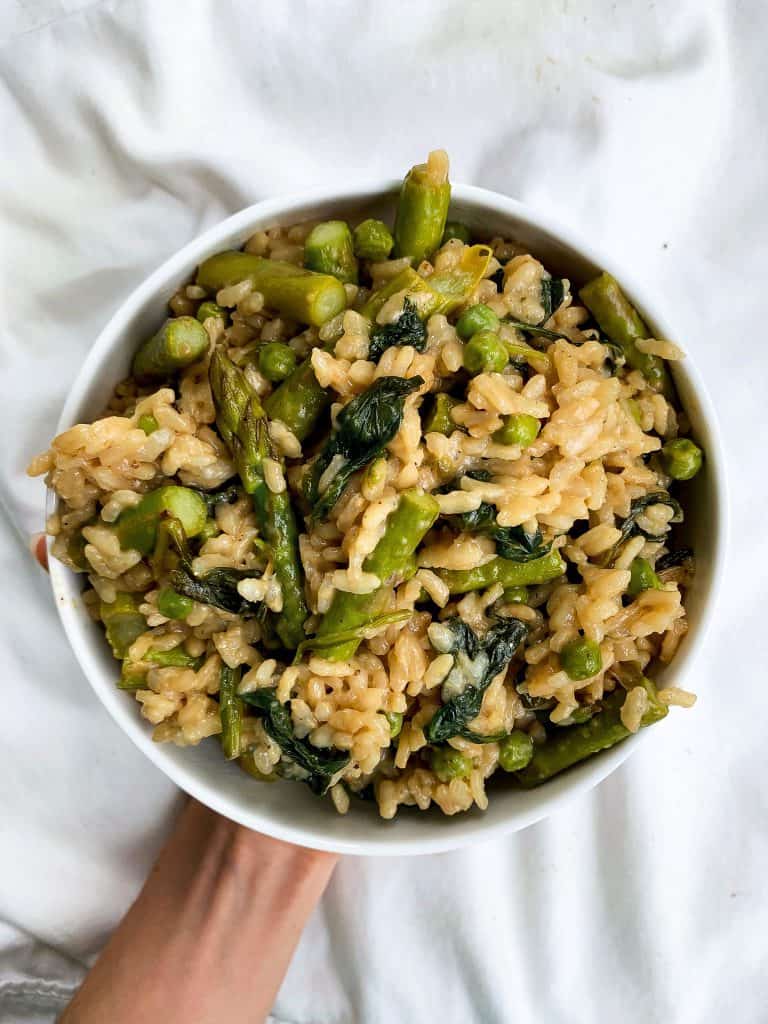 If you don't think the words comfort food, spring and healthy can go hand in hand… think AGAIN.
This asparagus, pea and spinach risotto is all of the above. And the best part? It's ready in under 20 minutes!
Major shout out to my Crock-Pot Multi-Use Express Cooker for making all my risotto dreams come true.
Before making this easy, spring risotto recipe I'd never attempted to make risotto at home. I always order it when we go out to eat, but never attempted to make it myself because it seemed like so. much. work.
Risotto is essentially a creamy rice made with chicken or vegetable stock. Sounds super easy, but it requires quite a bit of attention… and I don't trust myself when it comes to keeping all my attention on one task at hand. I'm a multi-tasker through and through. (That's why this time cube has been so crucial in helping me run my business!!)
The fact that I could pour all of these ingredients into one pot and let my Crock-Pot Express Crock do it's thing was a miracle. A full-blown creamy, cheesy risotto MIRACLE.
It was so easy in fact, that I had enough time to film a little video of me making it! The video is saved in my highlights under "risotto". Be sure to give it a watch if you plan on making this recipe 🙂
For this easy and healthy 20 minutes risotto recipe you will need:
Rice

Chicken Stock

Peas

Asparagus

Spinach

Garlic

Lemon Juice

Parmesan

Lemon Pepper Seasoning

Butter

Shrimp (or other protein of choice!)
I decided to go with lemon pepper shrimp for the protein in this recipe to lighten it up a bit. Risotto is already rich and creamy, so the shrimp balanced it out.
If you don't eat meat, you can easily make this recipe vegetarian by using vegetable stock instead of chicken stock and omit the shrimp! I've never tried tofu in risotto, but could be worth a shot 🙂
I hope you all enjoy this easy and healthy 20 minute risotto recipe as much as Michael and I did. He said it's his favorite dinner recipe I've made YET! And that's a bold statement 😉
Don't forget to tag me on Instagram if you make this recipe or any of my other creations!
PIN ME FOR LATER
x, elizabeth
20 Minute Spring Risotto with Asparagus, Peas, Spinach and Shrimp
Ingredients
1

Cup

Arborio Rice

2

Cups

Chicken or Vegetable Broth

2

Tsp

Minced Garlic

*or 4 cloves

2

Tbsp

Butter

1

Tbsp

Lemon Juice

1/2

Cup

Parmesan cheese

Grated

1/2

Cup

Frozen Peas

2

Cups

Baby Spinach

1

Cup

Asparagus

Chopped

1/2 - 1

Tbsp

Lemon Pepper Seasoning
Instructions
Turn your Crock-Pot Express Mulit-Cooker to the saute function. Add the 2 tbsp of butter to the pot and allow it melt.

Add in the garlic and saute for 2 minutes until broned. Pour in the rice and stir it around until it starts to toast. It will look light golden brown.

Pour in the 2 cups of chicken/vegetable stock. Stir and put the lid on the Crock-Pot Express Multi Cooker.

Set it to high pressure and cook for 6 minutes. When the cooking time is up, quick release the steam.

Stir the mixture together and add the Parmesan, peas, baby spinach, asparagus, lemon juice and 1/2 tbps lemon pepper seasoning. Taste for seasoning and add remaining 1/2 tbsp if needed.

Replace lid and let sit on the "Keep Warm" setting for 5-10 minutes. Add salt and pepper to your desired taste.

While the risotto is cooking for the remaining 5-10 minutes, sauté your shrimp in 1/2 tbsp olive oil on the stove.

Season with lemon pepper seasoning as desired, or no seasoning at all.

Add the shrimp to the risotto once it has finished cooking. Add more chicken stock if it needs thinned out. As it sits, it will thicken. Serve immediately.