5 Ingredient Crockpot Tex Mex Chicken | Easy Meal Prep Dinner Idea
This crockpot tex mex chicken recipe is bursting with flavor and made using only five ingredients. Perfect for meal prep, office lunches, meals between classes on campus and dinner parties. Enjoy on a bowl, as a salad, for tacos or as a dip with your favorite chips!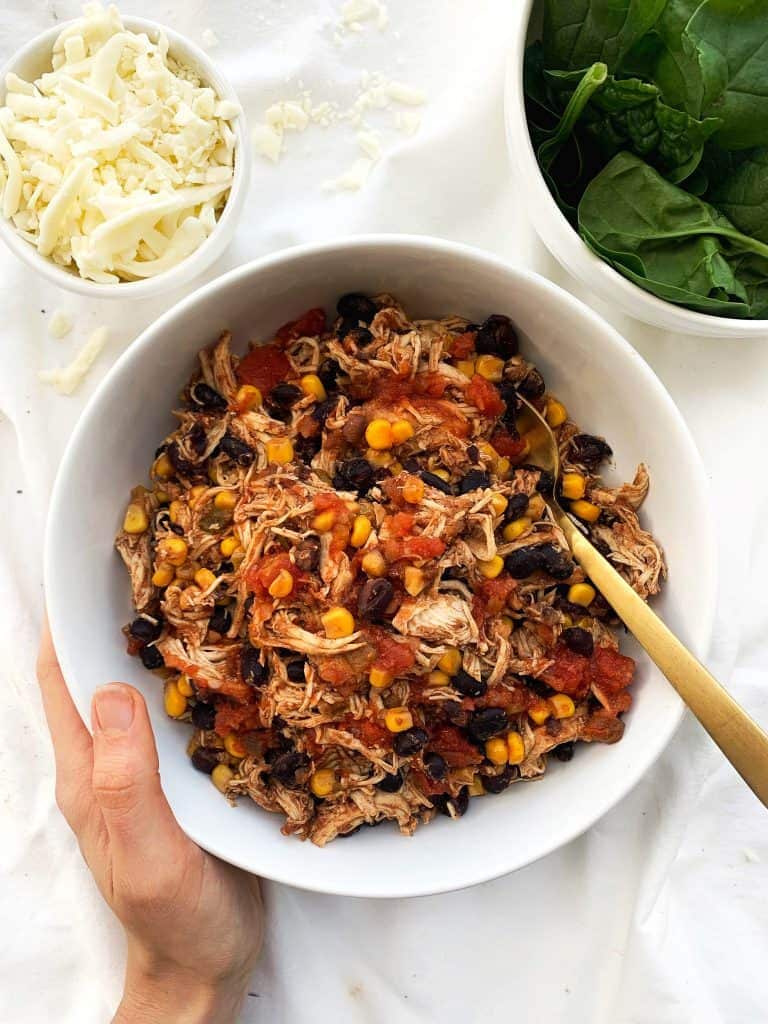 Where does all your money seem to run off to? For me, it's CHIPOTLE.
The amount of money I spend at Chipotle is getting out of hand. I went three times in five days, and THAT is just absurd.
Which is exactly why this weekend I whipped up a super simple FIVE ingredient crockpot tex mex chicken recipe! If you watched my stories on instagram you saw how this southwestern crockpot chicken takes about two minutes to prepare, has very minimal clean up and tastes freakin' GOOD.
Not only does it taste delicious, but my crockpot chicken recipe is a life saver when you're in a pinch as well as perfect for meal prep!
All you need for this crockpot tex mex chicken is:
1 Pound chicken breast
8-10oz salsa of choice (I used Trader Joes)
1 Tbsp taco seasoning
15oz Black beans (rinsed and drained)
1 Cup frozen corn
It seriously couldn't be easier OR more affordable.
If you're new around here, I like my recipes to be very cost-effective. My husband and I are very conscious of our spending and our grocery bill is one of the first things to bust our budget. I wrote a blog post all about my 15 Clever Ways to Eat Healthy On a Budget if this is something you're interested in as well!
As a nutritionist, our health and what we put into our bodies is incredibly important to me; however, we don't have a million dollars to be willy nilly about. I was able to make this recipe using ingredients we already had on hand, aside from the chicken!
My favorite recipes are the ones that use five ingredients or less, don't you agree? I also love using frozen foods because they last longer and ensure freshness!
Not to mention they're perfect for the lazy chef. AKA, me!
Michael and I have been eating this crockpot southwestern chicken on repeat! We've made several different bowls and salads with it, thrown it in taco shells with some melted cheese and turned it into a dip!
By "dip" I mean we dipped our favorite chips right in! Haha 🙂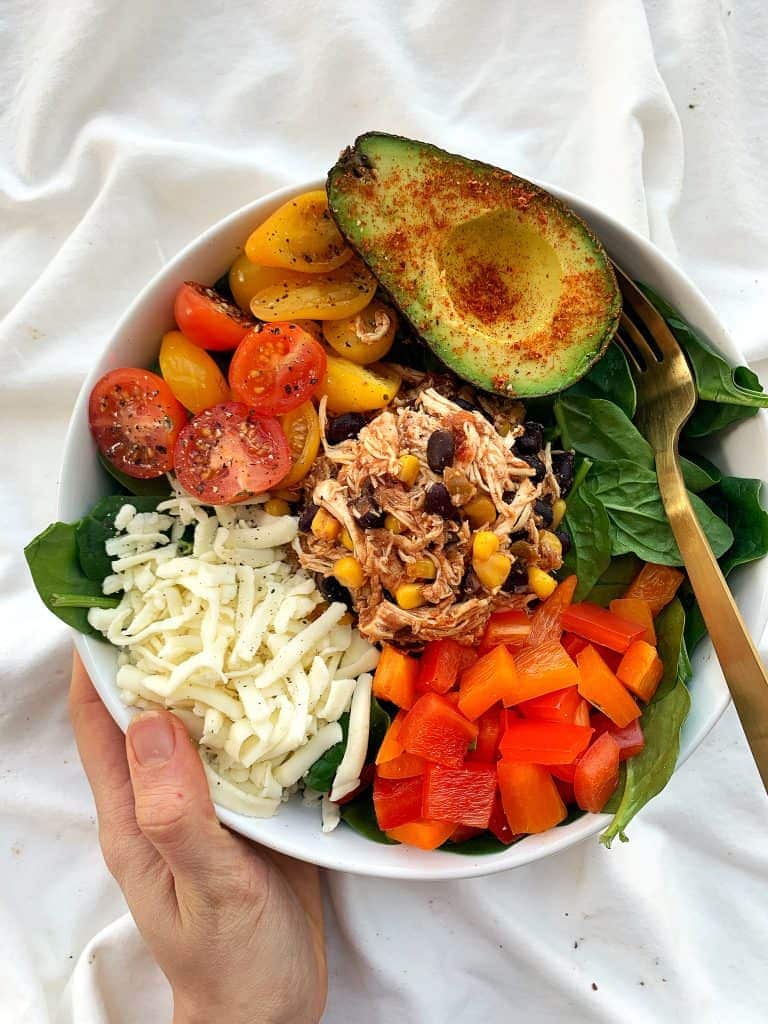 This tex mex chicken is great for meal prep, office lunches, lunch between classes on campus or for a dinner party!
How do you plan to use this easy crockpot tex mex chicken!? Always looking for more ideas!
Don't forget to tag me on instagram when you make this recipe so I can share on my stories!
Love this recipe? Then you'll also love:
[ PIN ME FOR LATER ]
Five Ingredient Tex Mex Crockpot Chicken | Easy Meal Prep Dinner
Ingredients
1

Pound

Boneless Skinless Chicken Breast

1

Tbsp

Taco Seasoning

8

oz

Salsa

15

oz

Black Beans

Rinsed and drained

1

Cup

Frozen Corn
Instructions
Place all ingredients EXCEPT for the taco shells and topics in your crockpot. Stir, making sure there's some sauce underneath the chicken so it doesn't end up sticking to the bottom.

Cook on LOW for 8 hours or on HIGH for 4 hours. Shred with a fork, then serve with taco shells, over salad or in a burrito bowl.