Salted Chocolate Chip Sweet Potato Muffins | Healthy + Delicious
Chocolate chip sweet potato muffins are on repeat in our house and for good reason! Roasted sweet potatoes pack delicious flavor plus lots of health benefits. These loaded muffins are perfect for breakfast, snacking or a healthy dessert!
Everyone's been geeking out about pumpkin lately (me included) but let's not forget about the year-round MVP root veggie… sweet potatoes!
We've seen them made into plenty of savory recipes like loaded nachos, toasts with all kinds of toppings, Turkey Sweet Potato Chili, Chipotle Sweet Potato Fries and stuffed with all the goods… so why not bake them into something sweet?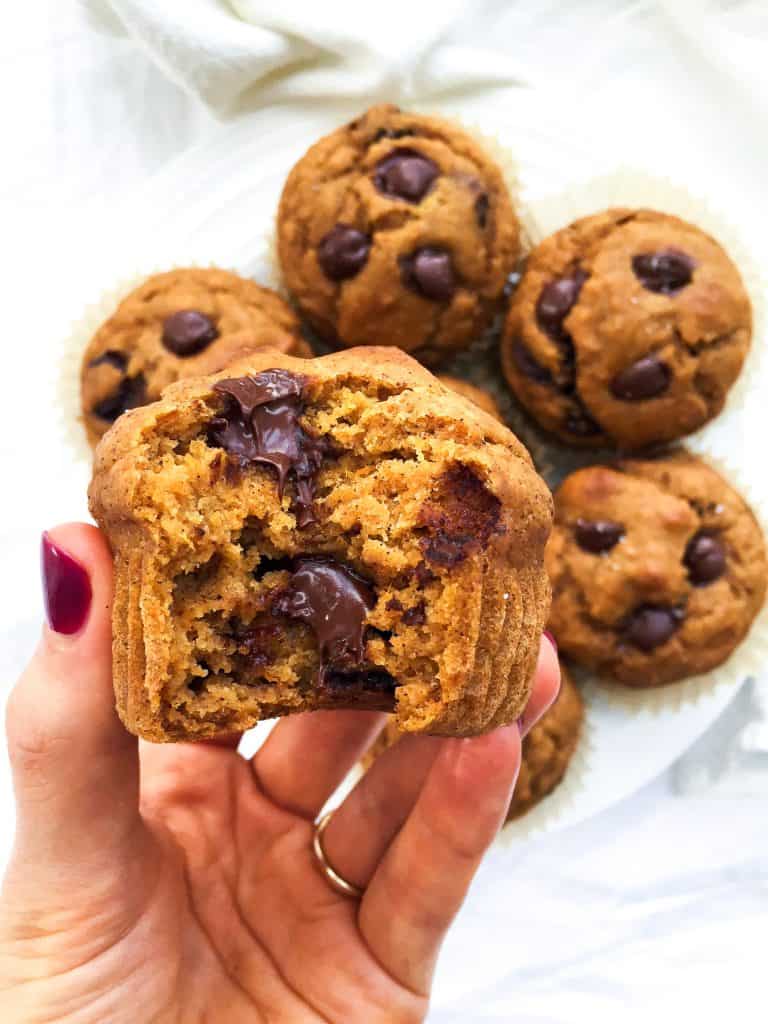 Growing up my family NEVER ate sweet potatoes.
It actually wasn't until college that I learned how amazing they are. Even then I was mostly just eating them in a fried form (now in my air fryer!)… but my life was forever changed.
There's so much debate on Instagram on whether you're team sweet or team savory when it comes to breakfast, and I'm a sweets gal 100%!
There's nothing better than some apple cinnamon oatmeal, peanut butter + yogurt toast or these chocolate chip sweet potato muffins with some hot coffee when you wake up!
I prefer eating them for a sweet treat in my yogurt bowls or on some halo top with a nut butter drizzle… but what else is new?
I honestly can't believe there was a time I restricted myself from eating peanut butter. I think it's safe to say I made up those 2 years of restricting within a few months after I reintroduced it into my diet. HA!
But you're not here to read about how I overcame my eating disorder… you're here for these healthy chocolate chip sweet potato muffins and I'm ALL about it!
Before making these muffins, you'll need to roast up some sweet potatoes in the oven.
How to Roast Whole Sweet Potatoes in the Oven:
You will need to roast 4 medium-sized sweet potatoes at 375 degrees F for 45 mins for this muffin recipe.
First, you'll need to poke holes in sweet potatoes with a fork and place them on a baking sheet.
Allow them to cool for 10 minutes then remove skin and mash out exactly 1 ½ cups of the sweet potato!
I like the sweet potato to be pureed with no chunks. I acquire this texture by throwing the sweet potato (skin removed) in my ninja food processor until smooth.
Can I swap out the Sweet Potatoes for something else?
I have only tried this recipe with sweet potatoes, but I'm fairly confident you could sub the sweet poatoes for pumpkin or banana.
The banana mash would be much sweeter than the sweet potato mash so you may want to reduce some of the sugar if you go that route!
The pumpkin would be less sweet, so you would probably want to add some additional sugar if you choose that option!
I love eating these chocolate chip muffins fresh out of the oven with some almond milk or warmed up in the microwave the next day.
You can also freeze them to have on hand! I love freezing my baked goods and chopping them up on some ice cream.
Like I said… I'm all about my sweet treats!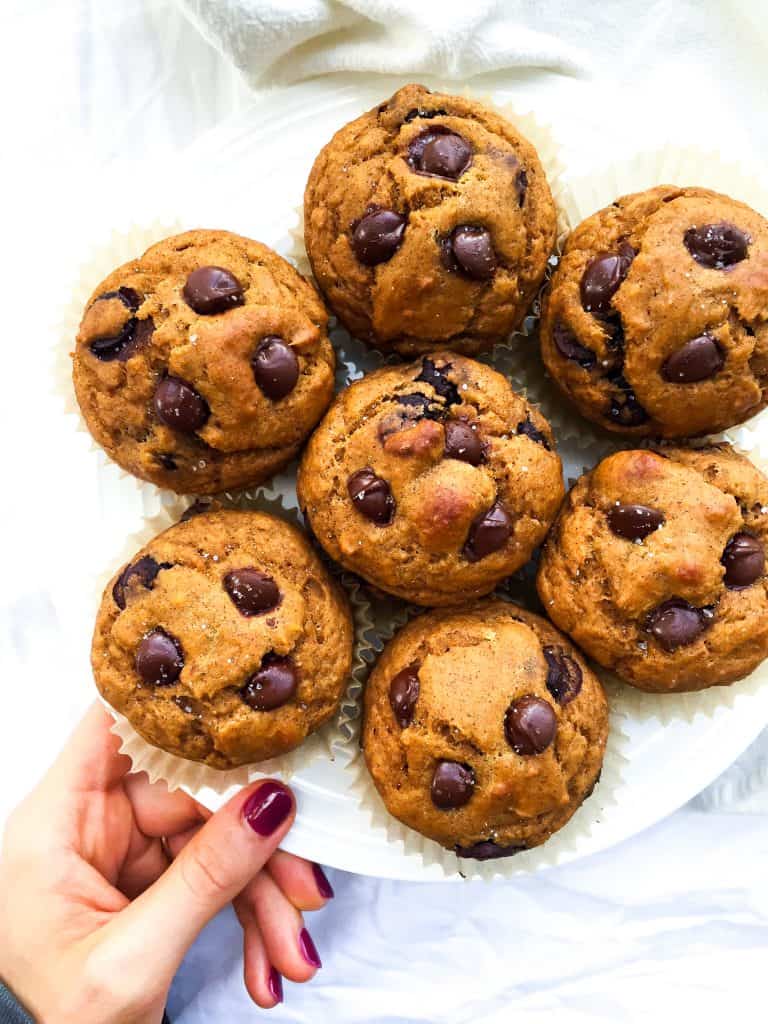 For This Chocolate Chip Sweet Potato Muffin Recipe You Will Need:
Baking Pan for Roasting Sweet Potatoes
Muffin Liners
Coconut Oil Spray or Avocado Oil Spray
I can't wait to hear what you think about these healthy and delicious sweet potato muffins! They were a huge hit at Michael's office and with our friends.
ALSO — don't forget to tag me on Instagram when you make them so I can share them to my stories as well!
PIN ME FOR LATER
Happy baking!
x, Elizabeth
Salted Chocolate Chip Sweet Potato Muffins
Ingredients
1 1/2

Cup

Roasted Sweet Potato

Mashed

2

eggs

1/2

Cup

Unsweetened Applesauce

1/4

Cup

pure maple syrup

1/2

Cup

Milk

I used almond mmilk

2

Tbsp

Avocado Oil

Can use coconut oil or EVOO too

1

Tsp

Vanilla Extract

1 1/2

Cup

Flour

Plus 2 Tbsp

2

Tsp

Cinnamon

1

Tsp

Baking Soda

1/2

Tsp

Salt

Plus extra for topping

1/2

Cup

Dark Chocolate Chips

Plus 2 Tbsp for topping
Instructions
Roast ~4 medium-sized sweet potatoes at 375 degrees F for 45 mins. (Poke holes in sweet potatoes with a fork and place sweet potatoes on a baking sheet.) Allow to cool for 10 minutes. Remove the skin and mash out 1 ½ cups of the sweet potato leaving no chunks! I wanted mine pureed so I used my food processor for this step.

Change heat to 350 degrees F and line a 12 cup muffin tin with liners. Spray the inside of them with nonstick cooking spray. We don't want them sticking to the liners!

In a large bowl, combine mashed sweet potato, eggs, maple syrup, oil, vanilla, applesauce, and milk.

Mixing on low, add in flour, cinnamon, baking soda, and salt.

Fold in ½ cup chocolate chips.

Divide batter evenly into muffin liners, top with a few chocolate chips, and bake for 20-25 mins. Cool muffins for 5 minutes and top with sea salt if desired! Store in the fridge and NOT on the counter for up to 3 days.