Collagen Chocolate Chip Cookies – Gluten Free | Hello Spoonful
Collagen Chocolate Chip Cookies are gluten free, healthy + packed with protein thanks to Vital Proteins Collagen Peptides. Enjoy this fluffy, delicious chocolate chip cookie recipe for breakfast, a snack or dessert! This post is sponsored by Vital Proteins but all opinions are my own! Thank you all for continuing to support this blog that I love so much!
Happy Thursday lovelies!
Michael and I just got back from Asheville where we celebrated our one year wedding anniversary. We had SO much fun and I documented a lot of the trip through my stories over on instagram. I saved the story in my highlights if you're interested in where we stayed, what we ate + all those fun vacation things!
[ I'm also hosting a GIVEAWAY on my instagram for (3) 20oz Vital Proteins Collagen Peptides! Head to my page to enter 🙂 ]
I tried alllll the things on our trip.. including some Jerusalem cuisine, a lamb rack plate at a mediterranean restaurant + a couple funky beers at local breweries.
Let's just say i'm not the biggest fan of sours — EEK.
Something I was SURE to not go without on our trip was my Vital Proteins collagen (+ chia seeds)! I always pack a bag on the go when we travel. I ended up adding the collagen to my coffee + oats every morning! Thinking I should add it to my Oatmeal Banana Coffee Smoothie next??
I'm a big believer in incorporating lots of healthy fats, protein + fiber in your diet. These three nutrients (+ veggies) are what keeps me the fullest and most energized 🙂
This food combo is also backed by science to turn off your hunger hormones + I go more into depth about this with my nutrition clients — but I won't bore you with nerdy science right now since I think you're here for the cookies 😉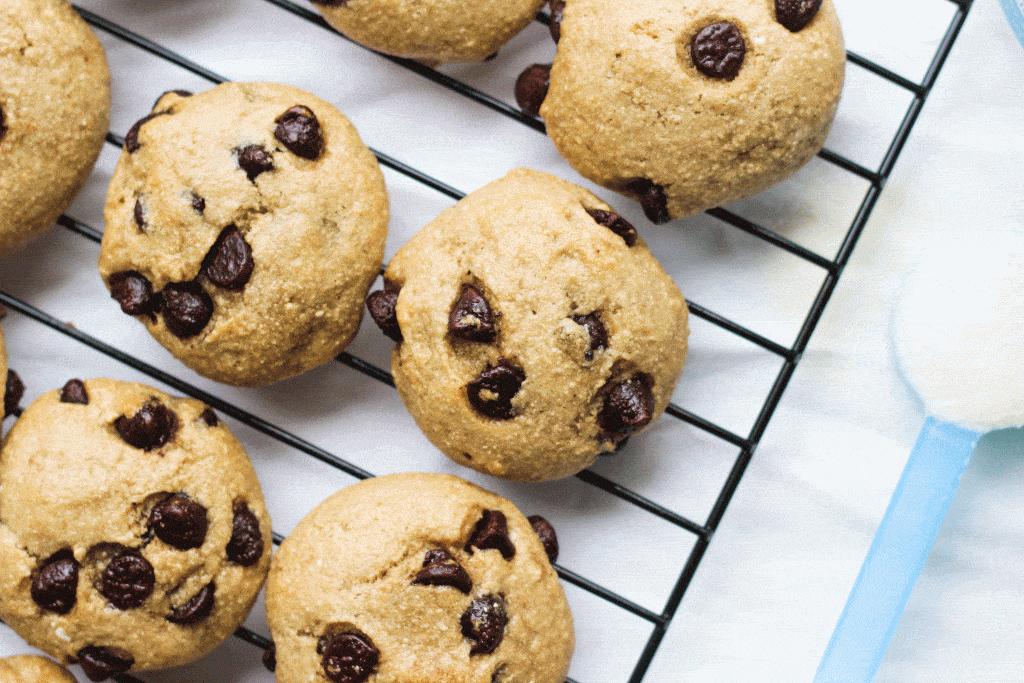 For those of you who are like "what in the world is collagen!?"
Heres a short breakdown of the benefits of Vital Proteins Collagen Peptides:
SKIN: After 25, we start to lose the collagen in our skin – and it's collagen that prevents us from getting wrinkles!
REVERSE SIGNS OF AGING: Collagen can actually reverse the signs of aging. By getting around 20g of collagen per day, you'll start to see those fine lines start to diminish.
MORE BEAUTY STUFF: Collagen protein is the foundation of your hair and nails, so it's no wonder that taking it regularly can cause your nails and hair to grow longer and stronger.
GUT HEALTH: Collagen has a unique amino acid profile that reduces gut inflammation, aids in healthy digestion, and helps with IBS!
JOINT PAIN: Reduces inflammation in your joints!
Basically it is only helpful and in no way harmful…. which is why I add it to, well, EVERYTHING!
Including cookies 🙂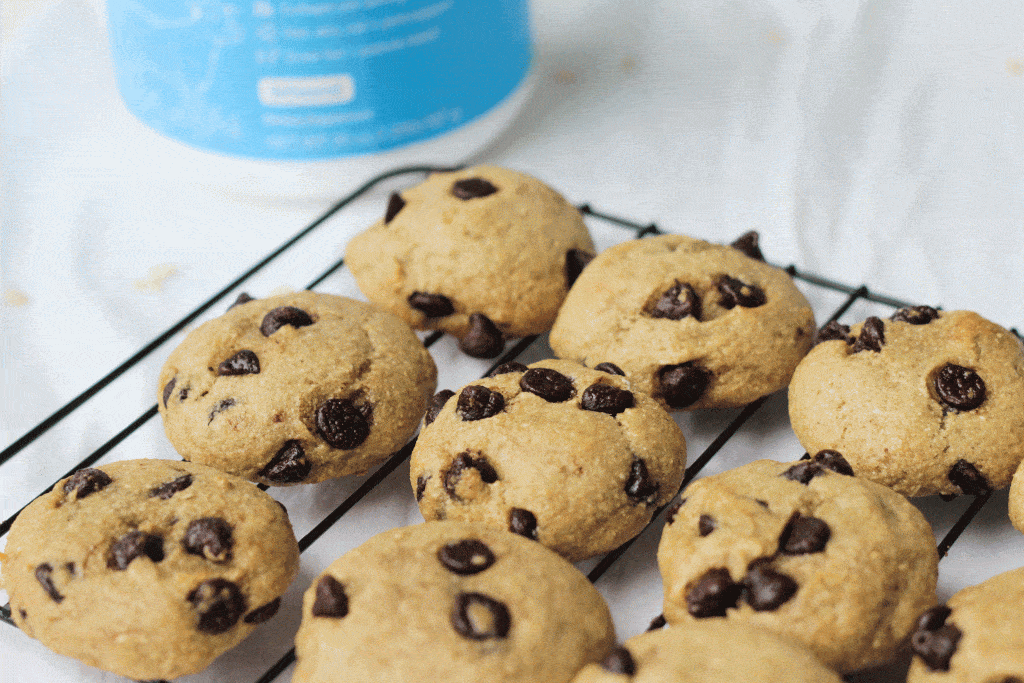 What's even better? I'm hosting a GIVEAWAY over on my instagram and you can win (3) 20oz containers of Vital Proteins Collagen Peptides!!!!
Can you enter your own giveaway? Asking for a friend…
I adapted this Collagen Chocolate Chip Cookie Recipe from my Banandoodles Cookie Recipe and it turned out amazing!
These collagen chocolate chip cookies are gluten free and if you're vegan you can make this recipe by subbing the collagen for a plant based protein powder.
OR you can make one of my other vegan recipes
I know I say this ALL the time, but this truly is one of my top 5 fave cookie recipes. Especially when you eat them warm, straight out of the oven!!
I couldn't wait to dive in when the collagen chocolate chip cookies came out of the oven and may or may not have burnt my tongue.
WORTH IT.

OK ONTO THE COLLAGEN CHOCOLATE CHIP COOKIES!
So what's in the recipe you ask!?
Oat flour (homemade)
Banana
Apple Sauce
Chocolate Chips
Coconut Oil
Brown Sugar/Coconut Sugar
Salt
Baking Powder
Pretty simple right? I like the looks of those ingredients in my cookies.
I hope you all will give them a try!
Be sure to tag me on Instagram if you make them and don't forget to enter my GIVEAWAY!
x, elizabeth
Collagen Chocolate Chip Cookies - Gluten Free
Ingredients
2 1/2

Cups

Oat Flour

*I didn't buy oat flour, instead i made my own. Plate whole oats in your blender/nutri-ninja and voila!

1/2

Cup

Coconut Sugar

*or brown sugar

1/2

Cup

Chocolate Chips

1/4

Cup

Apple Sauce

1/4

Cup

Pureed Banana

About one large, ver ripe banana

1/4

Cup

Coconut Oil

3

Scoops

Vital Proteins Collagen Peptides

2

Tsp

Baking Powder

1

Tsp

Vanilla Extract

1/4

Tsp

Salt
Instructions
Preheat oven to 350. Line two baking sheets with parchment paper, or lightly grease.

In a bowl, whisk together oat flour, collagen, baking powder and salt. Set aside.

Using either a stand mixer with the paddle attachment or a hand mixer, beat the oil and sugar at medium high speed until light, about 1 1/2 minutes. Add apple sauce + bananas beating well after addition. Beat in vanilla extract. Scrape down sides of the bowl and beat 30 seconds more. At low speed, add the flour mixture and beat until just blended.

Fold in chocolate chips.

Refrigerate dough for at least 1 hour (or up to a week in the fridge.) Shape the cookie into 1 inch balls (about 1 tablespoon of dough.) Arrange balls on the baking sheets, spacing them 2 inches apart.

Bake cookies one sheet at time, 12- 15 minutes until tops are crinkly and they are puffed and lightly browned around the edges. Transfer cookies to a wire rack and cool completely.