Healthy Greek Yogurt French Onion Dip
This healthy Greek Yogurt French Onion dip is perfect for game day or as an easy snack! Only a few ingredients, and ready in just minutes!
Can you even eat chips without french onion dip? Most will say no! With game days ahead I knew I had to share our favorite dip recipe! Don't miss my Buffalo Chicken Dip, another one of our favorites packed full of protein!
My version of french onion dip is much healthier and full of protein from the greek yogurt! It goes great with chips, veggies, pretzels, pita bread, you name it!
One of my favorite parts of this recipe is that you literally can make it in minutes, make it ahead of time, and store it for later! This is a win on SO many levels!
Let's talk about the difference between store-bought french onion dip and my version. Take Dean's for example. There are over 24 ingredients, two being yellow 5 and 6, along with MSG, and several you can barely pronounce!
But you aren't an ingredient reader and primarily look at the nutritional values, depending on what lifestyle you follow, you are probably thinking it's not that bad. It has 60 calories per serving, low in carbs (2g), relatively low in fat (5g), and zero trans fat.
As you can see, all of those unhealthy ingredients can wreak havoc on your body including your hormones, increases inflammation, and can inhibit weight loss (if that's what you are trying to achieve).
If you have recently stumbled on Hello Spoonful, just know I LOVE creating recipes that are healthier and being able to show you that you don't have to count your life away in macros and calories in order to get whole food nutrition!
Now on to the good stuff!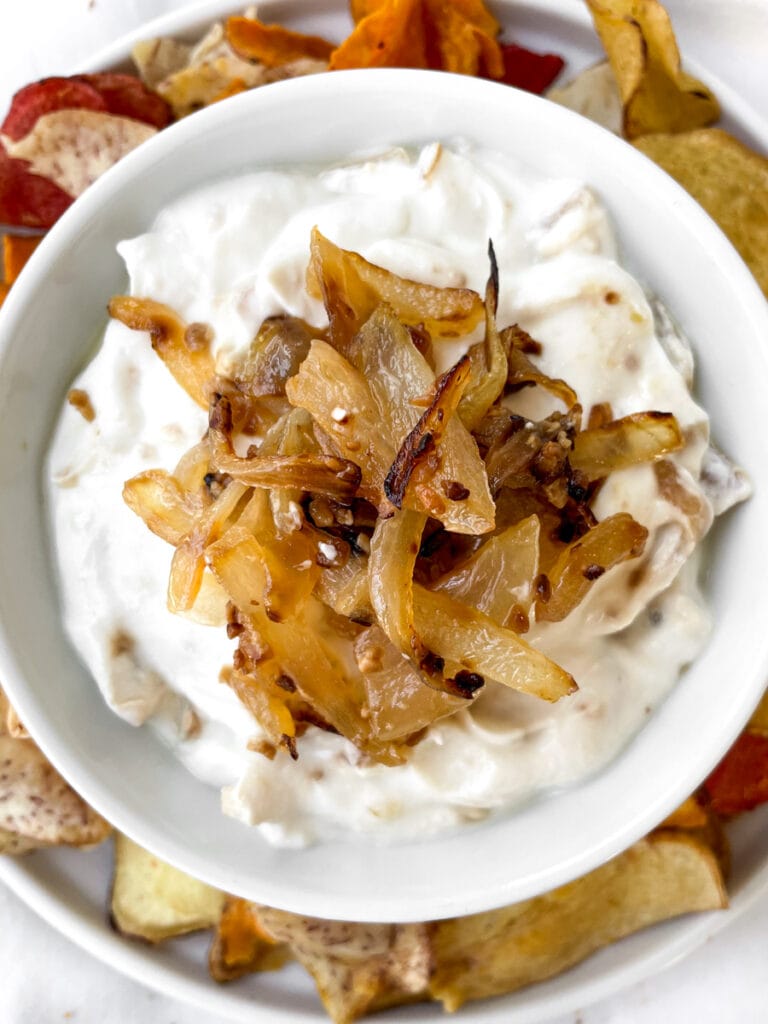 Ingredients for Greek Yogurt French Onion Dip
Olive Oil – You can swap this out for avocado oil if you don't have any olive oil on hand
Onion – I used a sweet yellow onion. It adds such delicious flavor when carmelized!
Minced Garlic
Greek Yogurt – I love FAGE and used fat-free for this recipe, but you can use any of your favorite plan greek yogurt brands!
Worchestershire Sauce
Salt
Onion Powder
You will also need:
A skillet
Small bowl
Medium-sized bowl
A dish for serving!
Be sure to check out my shop page on my blog for my favorite kitchen gadgets, utensils, and ingredients!
How To Make Healthy Homemade French Onion Dip
Chop your onion into the desired size and carmelize over medium-high heat in olive oil, then let them simmer. Stir often so they don't overcook!
Next, add in your chopped onion and garlic. You can also use store-bought minced garlic if you don't have any fresh.
After removing the onion mixture from the stove, cool in the fridge for a few minutes. Set aside some of the mixture to top the dip off before serving.
Combine all ingredients (except the bit of mixture you set aside).
Top with remaining caramelized onions and serve with your favorite chips, crackers, or vegetables!
Feel free to add more salt, pepper, or Worcestershire sauce if needed!
Storing French Onion Dip
This greek yogurt french onion dip will stay fresh for 3-4 days in the fridge, however, we don't recommend freezing! You can definitely make it ahead of time as long as it is in the window above.
Adding my healthy french onion dip to your list of appetizers to try? Tag me on Instagram so you can be shared on my stories!
PIN ME FOR LATER
More Easy and Healthy Appetizers for You To Try: