33 of the BEST Low Carb Dinners
Looking to add in some low carb options to your weekly meal rotations? You've come to the right place! Here are over 30 low carb recipes that are even good on weeknights!
We know we need carbs to survive, but sometimes fewer carbs are better. For example, during my pregnancy, my doctors were recommending that I start adding in some more low carb foods to help with my headaches, which actually worked! Some people are jumping on board with the keto diet, which many have had success with! If you want to learn more about keto, check out The Dummies Guide to the Keto Diet, where I go over all the details.
These gluten-free keto chicken strips are full of flavor and baked to perfection every time! Only whole and healthy ingredients!
Oven-Baked Keto Turkey Meatballs that are also gluten-free, Whole30 approved, and paleo? Sign me up! These easy and healthy turkey meatballs require just 6 simple ingredients, are packed with protein, and perfect for meal prep!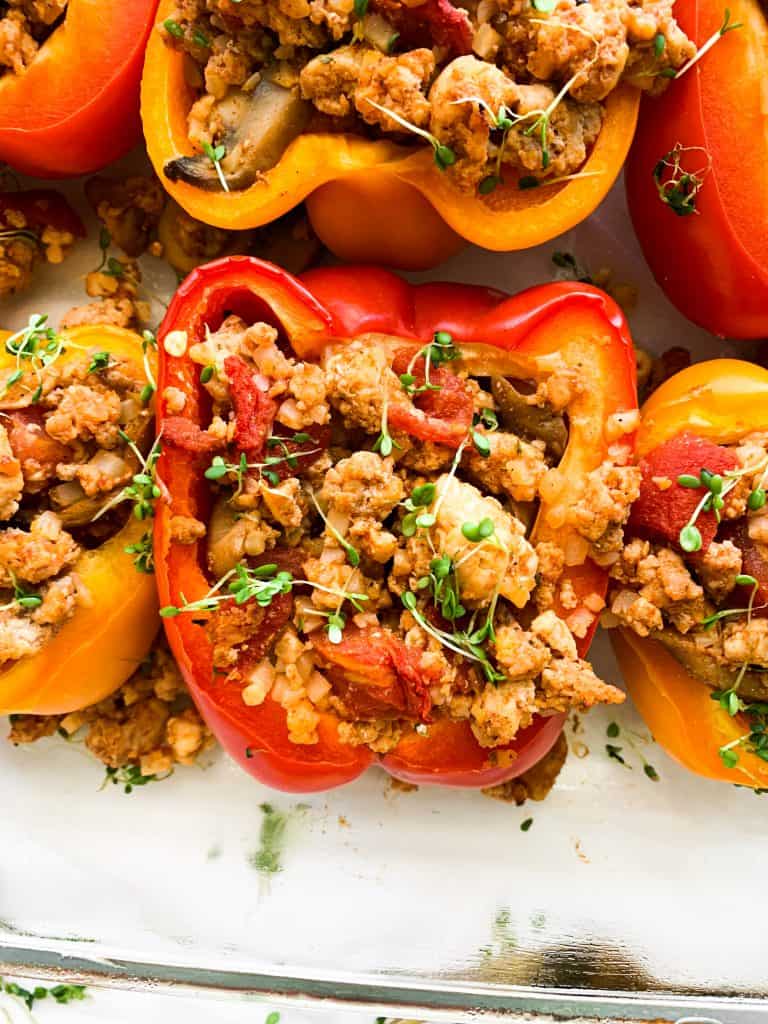 Whole30 Stuffed Peppers are loaded with healthy ingredients like ground turkey, crushed tomatoes, cauliflower rice, mushrooms, delicious spices, and more! Top your peppers off with my Whole30 Avocado Cream Sauce or fresh avocado for an added touch.
This healthy high protein egg bake casserole makes the perfect breakfast or brunch. Make ahead of time and reheat during the week for an easy breakfast on the go. Loaded with ham, feta sun-dried tomatoes, and spinach, it's packed with protein and nutrients to keep you full until lunch.
5 Ingredient Slow Cooker Buffalo Chicken is paleo, keto, gluten-free, dairy-free, and delicious! This easy recipe is perfect for meal prep, weeknight dinners, or a crowd! Best of all? It's made in your slow cooker so it does all of the work for you.
5 Ingredient Crockpot Chicken Fajitas that are gluten-free, Whole30 approved, keto, and paleo. This recipe is loaded with fresh vegetables, flavor, and perfect for meal prep! Add this healthy fajita chicken to tacos, bowls, or salads for an easy weeknight dinner.
This healthy, 15-minute shrimp stir-fry for two is made with seven simple ingredients and loaded with flavor! Meal prep this recipe ahead of time for a delicious lunch at the office you'll actually look forward to, or throw it together for a quick and easy weeknight dinner.
This Easy Peanut Butter Curry Sauce is ready in 15 minutes, packed with delicious Thai flavor, and perfect for meal prep. Serve your Shrimp and Vegetable Peanut Curry over rice or quinoa for a filling and satisfying meal that's sure to impress.
30 Minute Healthy Thai Chicken Curry and Vegetables is your new favorite, easy weeknight meal! Enjoy this quick and healthy recipe filled with red curry flavor and simple ingredients. This simple red curry sauce is also vegan, gluten-free, and great for meal prep!
This Healthy Mediterranean Tuna Salad recipe is high in protein, mayo-free, packed with veggies, and ready in 10 minutes! Perfect for meal prep and office or school lunches. You'll definitely want to add this 10-minute recipe to your Sunday meal prep menu!
This Citrus and Herb Shrimp Sheet Pan recipe is the perfect weeknight meal. Ready in under 30 minutes, great for meal prep and packed with protein, veggies, and flavor. This post was sponsored by Minerva Dairy, but all opinions are my own!
This healthy slow cooker chicken is one of my favorite kitchen hacks! Plain slow cooker chicken takes no time to prep but can be used in a variety of dishes throughout the week.
Zucchini Pizza Casserole is cheesy, saucy, and delicious – a meal that the whole family will love! It is low in carbohydrates and is gluten-free.
Frittatas are inexpensive and easy to make. Healthy, delicious, and perfect for breakfast and brunch, or dinner too! Feel free to substitute other vegetables you have on hand, along with your favorite cheese!
Greek yogurt sauce for chicken is full of the delicious flavors of curry, cinnamon, and garlic. This one-dish low carb roasted chicken is the perfect recipe for family meals and special occasions.
Salmon with Avocado Salsa – spiced and grilled salmon topped with fresh avocado and orange salsa. A quick and tasty low carb dinner.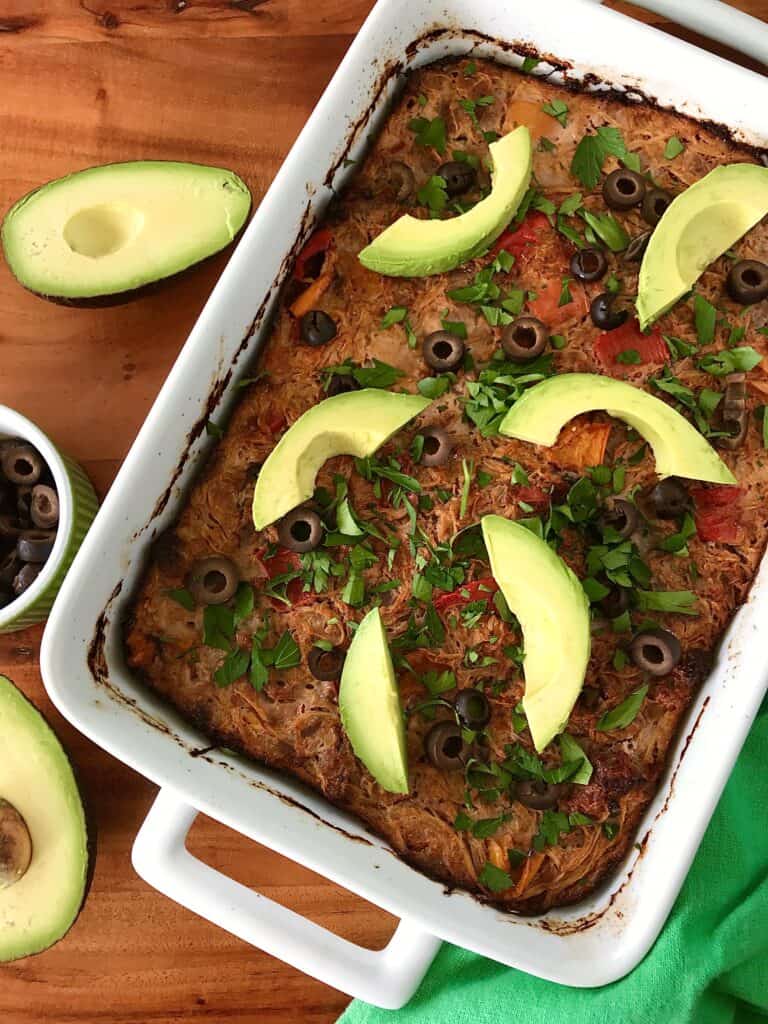 This easy Taco Casserole is packed with protein, veggies and flavor! It happens to be low carb but it's so hearty and filling the whole family will love it.
A delicious recipe for healthy & Low Carb Shrimp Lettuce Wraps. So easy to make it comes together in about 20 minutes! Say goodbye to take-out with these Asian Lettuce Wraps.
This super easy Bacon Spinach Salad is filled with bacon, blue cheese crumbles, onions, tomatoes, hard-boiled eggs and topped with a warm bacon dressing!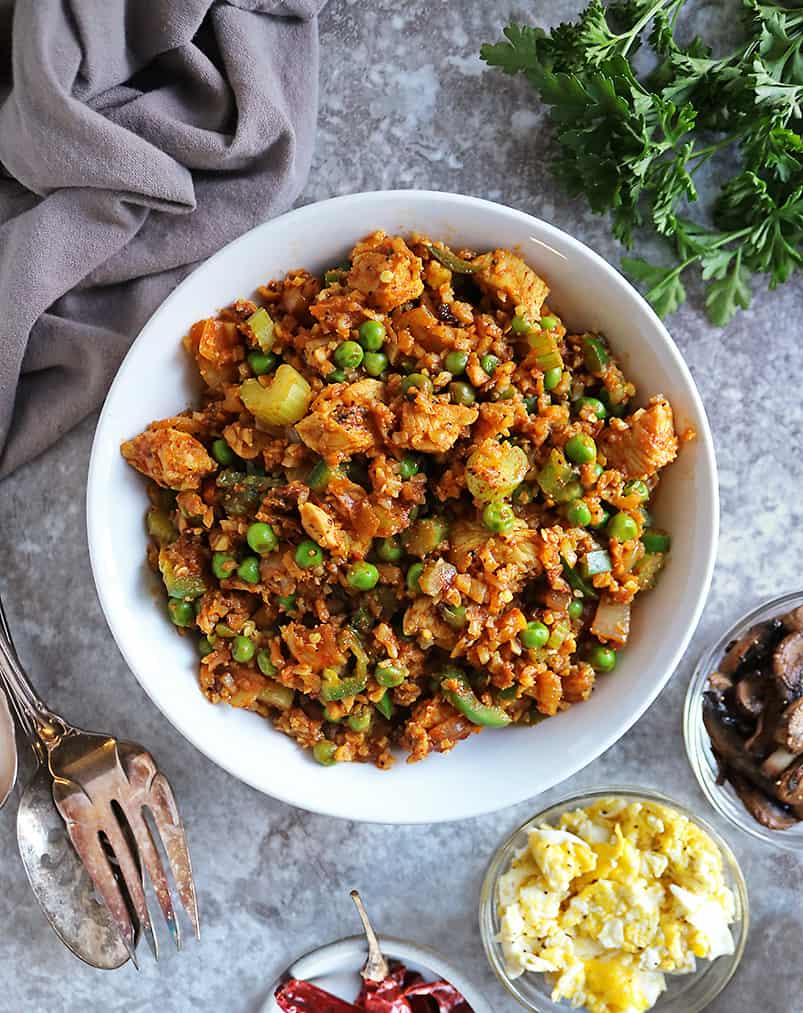 In this One-Pan Fried Cauliflower Rice Chicken Dinner, riced cauliflower is pan-fried with chicken, greens, fresh onions, garlic, & ginger, and a plethora of spices. Served with scrambled eggs and sauteed mushrooms, this is a nutritious and tasty low carb dish you and your family are going to want to make and remake.
A delicious, satisfying meal with just 20 minutes of prep time, everyone will love this recipe! Easy Low Carb Mexican Lazy Cabbage Roll Casserole takes all the work out of cabbage rolls, with a Mexican twist!
The best keto shepherd's pie recipe is here, and it's incredibly easy to make, healthy, and delicious! It's made with ground lamb, lots of vegetables, and topped off with mashed cauliflower. The recipe is low carb, keto, paleo, and Whole30 compliant.
This high protein meal used zoodles instead of carb-heavy pasta. The bolognese sauce is vegan so that everyone in your family can enjoy it.
Super crunchy taco shells made out of cheese that is keto and
gluten-free. Makes the most crave-able tacos ever!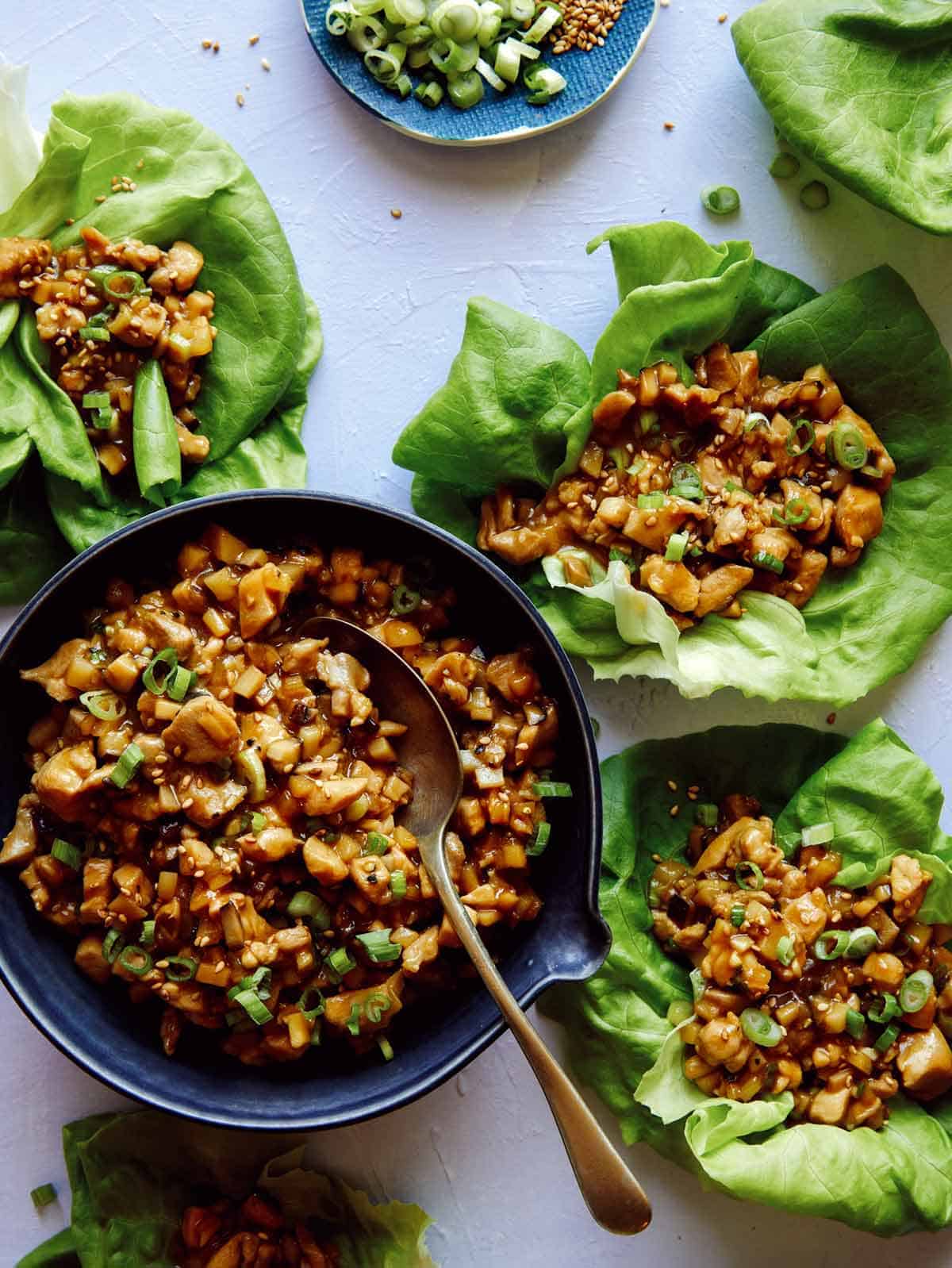 These Chicken Lettuce Wraps are delicious and super filling! Better than restaurant quality and great flavor.
This Ultimate Burger Bowl recipe will keep you full without a ton of carbs. It is a burger all in one bowl full of protein, vitamins, and nutrients without the buns. If your craving a burger, then you must try this Ultimate Burger Bowl. It's healthy, crispy, and flavorful with each bite.
This Skillet Scramble is a tasty and nutritious one-pan meal that should not be limited to just breakfast. A healthy skillet full of protein, veggies, and lots of flavors, this savory meal is great for group gatherings or meals that can last you throughout the week!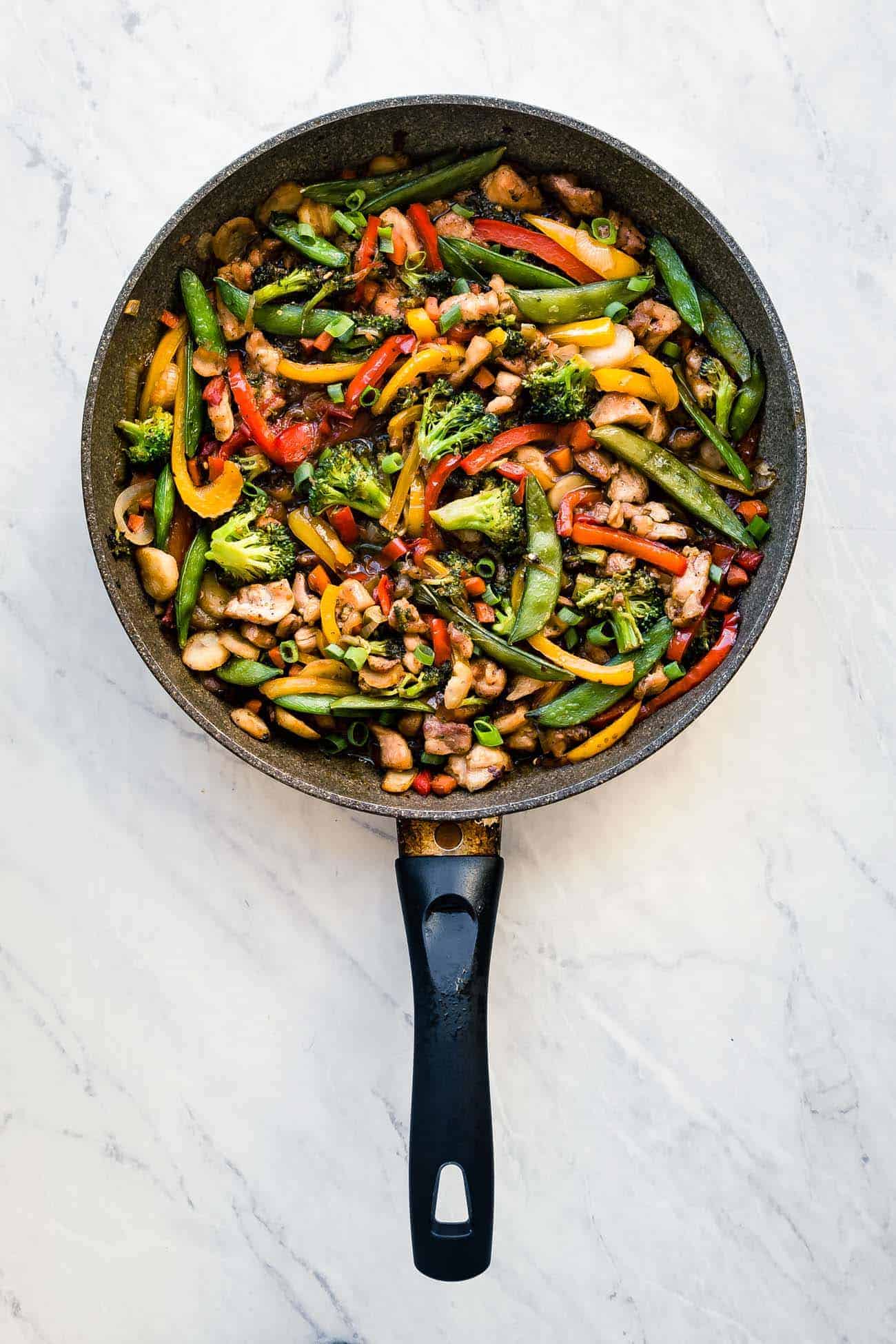 This keto chicken stir fry is made with lots of vegetables and prepared all in one pan. It's perfect for meal prep or as a quick and easy weeknight meal. The recipe has the most delicious sauce and is gluten-free, dairy-free, paleo, Whole30, and keto.
Low Carb Keto Zuppa Toscana Soup recipe is packed with flavor from crispy bacon, Italian Sausage, spinach and tender cauliflower all in a rich, creamy broth.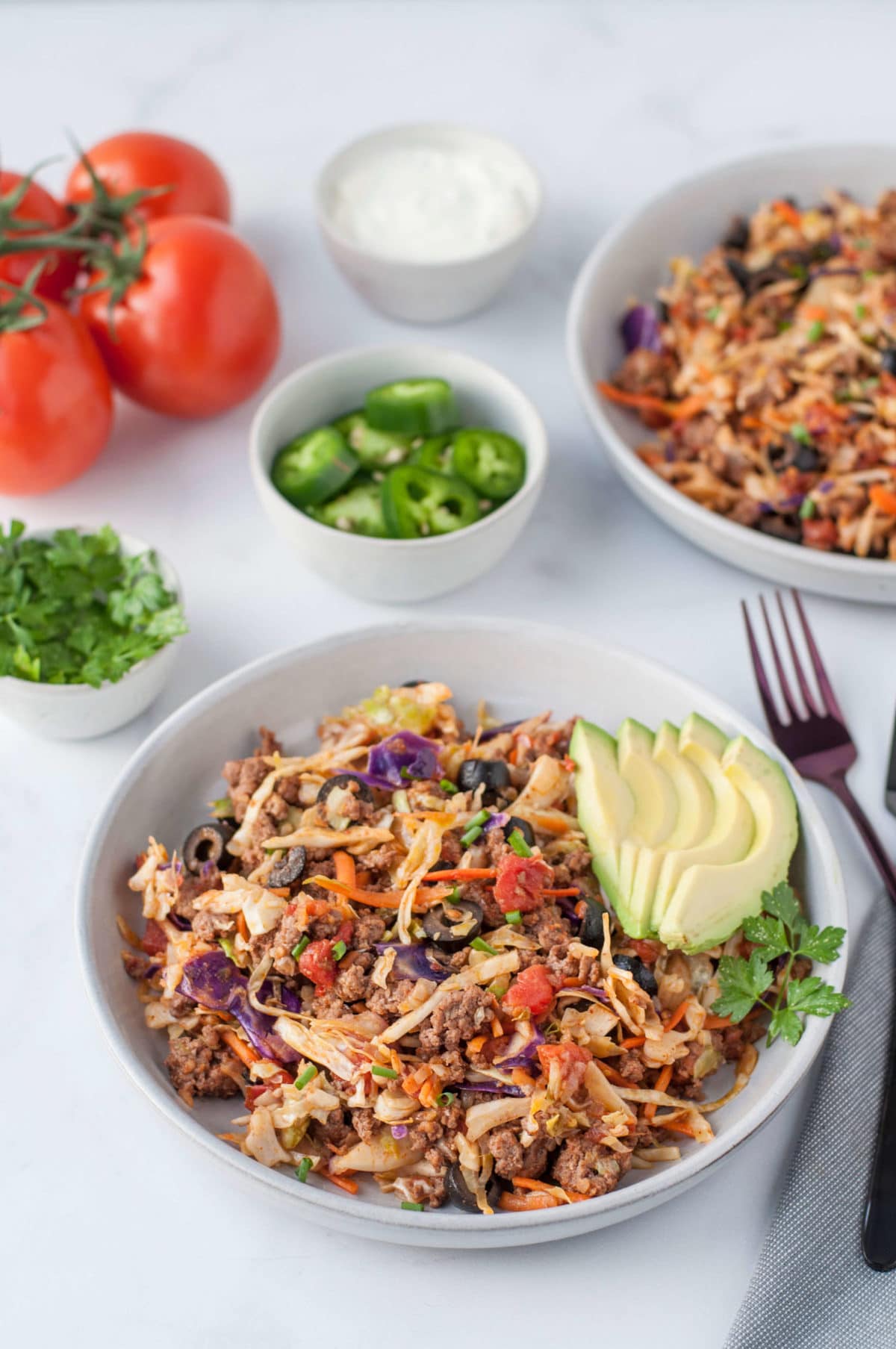 This warm keto taco slaw is the perfect new addition to your low carb taco Tuesday routine. Think egg roll in a bowl meets tacos. Delish!
This Low Sugar Easy BBQ Sauce Recipe is the perfect sauce for all your favorite recipes. Add it to oven-baked chicken, pulled chicken in your crockpot or kebabs on the grill! This healthy sauce is extremely versatile and can be tailored to your preferred level of sweetness!
Guacamole Deviled Eggs are a healthy appetizer made with eggs, guacamole, chili lime seasoning + other spices. Loaded with a good dose of healthy fats and perfect if you're gluten-free, low-carb, paleo or keto. Enjoy this appetizer for tailgating or at your next family meal!
This Healthy Pressure Cooker BBQ Pulled Chicken recipe is perfect for meal prep for make-ahead lunch and dinner. Protein-packed & made low in sugar with only 3 ingredients. A gluten-free, low calorie, and low carb healthy meal ready in 30 minutes!
WOW! So many amazing low carb recipes! Tag me on Instagram and let me know what you are going to make first!
PIN ME FOR LATER