The Best Freezer Meals for New Moms
These are the best freezer meals for new moms that you will find! From savory breakfast ideas to sheet pan dinners, this list of recipes has it all!
One of the greatest gifts that you can give to new parents is a delicious, homemade meal. One of our friend's created a meal train for us and it was seriously the best gift I could have asked for during those first few months of motherhood! One of the greatest gifts that you can give to new parents is a delicious meal.
The Best Breakfast Freezer Meals for New Moms
Breakfast often gets overlooked when thinking of what meal to bring a new mom. New moms are up with their babies all throughout the night and into the early morning, so breakfast is more crucial than ever! Especially if she is choosing to breastfeed… your appetite goes crazy!
Healthy air fryer egg bites are a great way to start your morning! Only 7 ingredients are needed for a batch of 10 egg bites that are ready in 15 minutes!
Healthy Oatmeal Banana Waffles are dairy free, refined sugar free, and made with whole food ingredients to keep this banana waffle recipe healthier than most. Enjoy this easy, healthy breakfast recipe for two with your favorite toppings!
My Gluten Free Pancakes are fluffy and dairy free! Easy to make and ready to top with your favorite toppings and syrup!
The BEST Breakfast Sandwich Recipe! Made with egg, cheese, and ham piled between a soft butter croissant, these warm and delicious breakfast sandwiches are freezer-friendly and perfect for a quick and easy breakfast, lunch, or dinner.
This Vegan Baked Oatmeal is full of flavor without added sugar! It's easy to make and you don't need any fancy ingredients! Great for breakfast meal prepping too!
These freezable Breakfast Burritos are a grab-and-go, make-ahead breakfast you'll actually look forward to eating! Full of sweet chicken-apple sausage and butternut squash, savory cheese and red peppers, and fluffy scrambled egg, these breakfast burritos are crazy-delicious, hearty, and filled with great, keep-you-fueled-up nutrition!
The Best Pasta Dinner Freezer Meals for New Moms
Pasta is one of my favorite freezer meals becuase it's typically a one pan meal! This means it has protein, fat, carbs, veggies… AKA it's super filling and super quick to eat! Bonus points because you can eat it one-handed while holding your precious little one in the other!
One Pot Chicken Parm Pasta is so easy to make and filled with traditional Italian flavors! Made with whole ingredients and ready in less that 30 minutes making it an easy and healthy weeknight meal idea!
Healthy Buffalo Chicken Pasta Bake is a quick and easy meal that's ready in just 30 minutes and is full of creamy and cheesy flavor with just enough spice from the buffalo sauce!
Baked Ziti with Meatballs is the perfect freezer meal! It's easy to make and bake for any occasion.
Sheet Pan Freezer Meals for New Moms
Sheet pan meals are my favorite dinners to make! These are my favorite chicken sheet pan dinners, but I also have shrimp & asparagus or chicken sausage and sweet potato recipes. A one-pan meal is seriously SO convenient for the cook and the consumer!
Calling all Ranch Lovers! This Cheesy Ranch Chicken Bake is filled with veggies, easy to make, and is ready in less than 30 minutes! Talk about a healthy weeknight meal!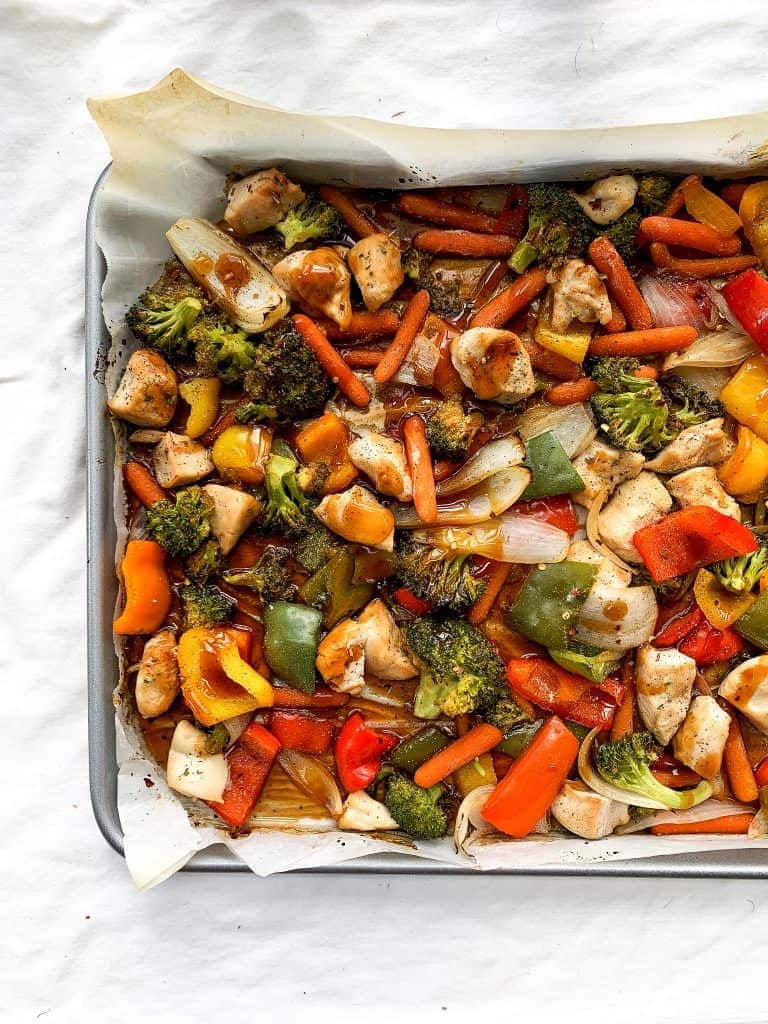 Sheet pan honey garlic chicken and veggies is an easy weeknight dinner that's perfect for meal prep! Packed with nutrients, protein, and lots of flavor, serve this easy dish over rice and enjoy the leftovers for lunch at work.
Freezer Friendly Soups, Chili, and Curry Recipes
Nothing beats a cozy soup, chili, or curry recipe! I was feeling all types of ways after having my baby and comfort food was just what I needed!
Creamy Chicken Enchilada Soup is the perfect comfort food and has all the ingredients of traditional enchiladas, except it's in a bowl and easier to make!
This Healthy & Easy Turkey Sweet Potato Chili can be made in your instant pot, slow cooker, or on the stove. Made with clean ingredients and ready in no time. It's the perfect fall or winter chili recipe!
This budget-friendly Wendy's Copycat Chili recipe has so many uses, freezes well, is perfect for meal prep, and can be made to serve your family or a large crowd.
Moroccan Carrot Red Lentil Soup is a meatless soup recipe packed full of flavor! Cumin, turmeric, coriander, paprika and cinnamon compliment the red lentils and carrots, creating a creamy, filling soup.
This easy vegan potato curry is spicy, creamy, protein-packed, and full of delicious Thai flavors! Try this mouthwatering and budget-friendly one-pot dinner.
Freezer Friendly Crockpot Recipes For New Moms
Crockpot recipes are the best because you can literally "set it and forget it!" Even the least of cooks can make these recipes for their new mom friends!
With 207 5-star ratings, this healthy honey garlic crockpot chicken is truly a must-make for new moms! Serve on a bun with a side salad or with rice and veggies to make your meal complete!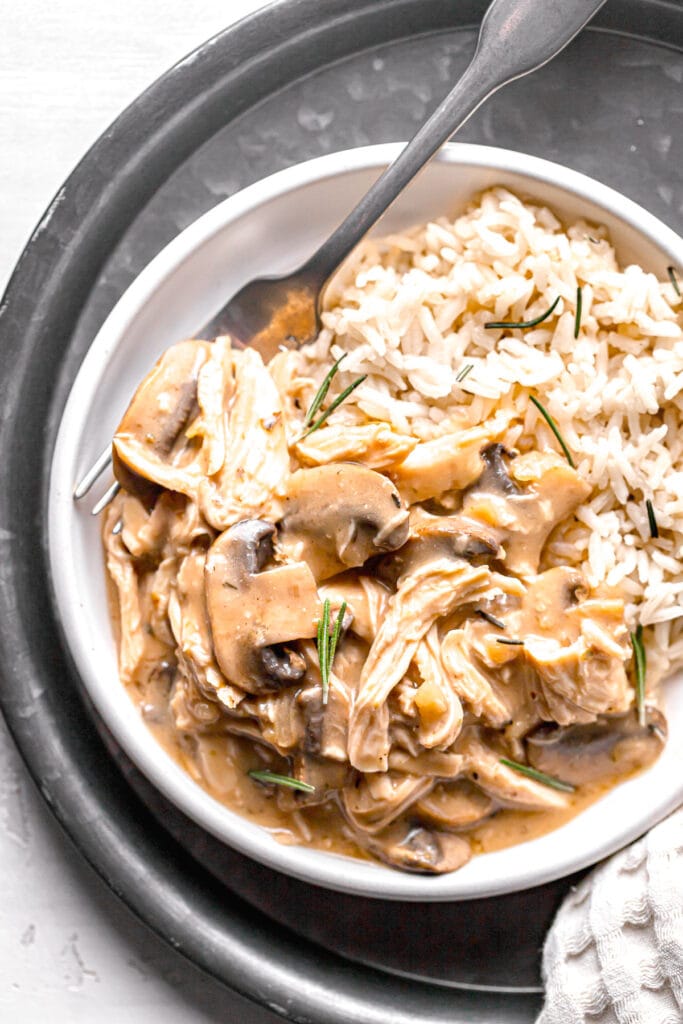 Crockpot Cream of Mushroom Chicken only requires 7 ingredients and is a hearty comfort food that can be served year round.
This crockpot tex mex chicken recipe is bursting with flavor and made using only five ingredients. Enjoy on a bowl, as a salad, for tacos or as a dip with your favorite chips!
Freezer Meal Casserole Dinner Ideas for New Moms
I am a huge fan of casseroles because they are a meal in a pan! Some of my favorite meals that got delivered after having my baby were casseroles because I didn't need to make any sides to go with them. They have grains, protein, veggies, and healthy fats. They have it all!
Cheesy chicken and rice casserole is a classic family favorite recipe. This version is made without the typical canned soup and instead uses a quick and easy homemade sauce. It's a perfect recipe for freezer meals too!
Crockpot Ranch Chicken Casserole is an all-in-one slow cooker meal that's ready to eat when the day is done. Crock pot ranch chicken is affordable, easy to make, and a true family favorite. Plus it's a great freezer meal for easy meal prep.
Other Freezer Meals for New Moms that she will Love!
Gluten free turkey meatballs will be a family fave even with your babies! Ready in less than 30 minutes makes them an easy weeknight dinner and meal prep idea!
Keto Turkey Meatballs that are gluten-free, Whole30 approved, and paleo? Sign me up! These easy and healthy ground turkey meatballs require just 6 simple ingredients, are packed with protein, and are perfect for meal prep!